Dental Emergencies and First Aid Procedures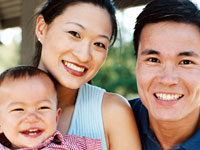 The following first aid procedures are important steps for handling dental emergencies or facial injuries. They provide temporary relief and help in their proper repair or healing. As with any injury, always follow up with personal care from your dentist or physician.
Bitten Tongue/Cut Lip
Clean gently with a cloth. Apply cold compresses to reduce swelling. If bleeding is severe, go to an emergency services provider. After bleeding has subsided, rinse with warm salt water.
Broken Jaw (Possible)
Don't move the jaw. Secure it in place by tying a scarf, necktie, or towel around the jaw and over the top of the head. Apply cold compresses to reduce any swelling. See your dentist or emergency services provider immediately.
Broken Tooth
Rinse the mouth with warm water. Try to remove any dirt, blood, or debris from the injured area using sterile gauze or a clean cloth and warm water. Apply cold compresses on the face next to the injured tooth to reduce swelling. See the dentist immediately. Place the broken piece in a small container of whole milk.
Knocked-Out Tooth
Annually, more than two million teeth are knocked out accidentally; more than 90% of them can be saved with proper treatment.
Holding the tooth from the crown (top part), rinse off the root. Don't scrub or remove any attached tissue fragments. Gently hold the tooth in its socket. (Young children may accidentally swallow; use your judgment.) If this isn't possible, place the tooth in a cup of cold whole milk. Avoid using low fat milk, powdered milk, or milk products like yogurt. Never put the tooth in mouthwash or alcohol. Avoid scrubbing the tooth or touching the root end. Get to the dentist immediately (within 30 minutes) and take the tooth!
Objects Trapped Between Teeth
Try gliding dental floss between teeth (dental tape is often useful in removing shredded dental floss.) Sometimes tying a small knot in the floss may help, too. Avoid using any sharp or pointed objects. See a dentist if object can't be removed.
Toothache
Toothaches can result from different causes. Rinse mouth with warm water. Remove any food trapped between teeth with dental floss. Avoid applying aspirin on the tooth or gum tissues. If a cavity is suspected, insert a small cotton ball or cotton tip soaked in oil of cloves (eugenol). Do not cover a cavity with cotton if there is facial swelling or pus. See a dentist as soon as possible.
Always consult with a dentist if you have questions regarding any dental problem.
By Brian J. Gray, DDS, MAGD, FICO
Women's Dental Care FAQs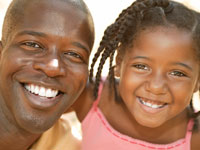 Q. Why is it important that women be concerned with their oral health?
A. For many women, oral health changes throughout the different stages of their life, due to surges in sex hormone levels. The dentist may request to see the patient more frequently during hormonal surges.
Q. Gum disease tends to run in my family. What's the best way to prevent and treat it?
A. To prevent periodontal disease, dentists recommend the basics to all their patients: Brush at least twice a day, and floss once a day to remove plaque. Most people should see a dentist twice a year. Because of family history, some women may need to brush and see their dentist more often. There are also new medications that help fight gum disease. Recently, the Food and Drug Administration approved an oral drug, Periostat, which may improve tooth attachment and stop tissue destruction. Two other new products, Atridox (an antibiotic) and PerioChip (an antibacterial), are applied to the gums by your dentist. These medications are to be used in conjunction with traditional gum disease treatments, such as scaling and root planing.
Q. What problems occur for girls during puberty?
A. The surge in hormones that occurs during puberty may cause swollen gums, especially during menstruation. Herpes-type lesions and ulcers also can develop. They also may experience sensitive gums that react more to irritants.
Q. What gum problems may occur during menstruation?
A. Women may experience red, swollen, tender gums (gingivitis) a few days prior to their menstrual period because of increased levels of progesterone in their bodies. These changes occur because of an exaggerated gingival (gum) response to bacterial plaque and generally resolve toward the end of the menstrual period or shortly thereafter. To combat these symptoms, a dentist may recommend more frequent cleanings, fastidious home care, and possibly an anti-microbial mouth rinse or special toothpaste.
Q. Can women develop cold sores related to the menstruation cycle?
A. Yes, a few days before menstruation begins, some women may experience an activation of cold sores (herpes labialis). These sores occur on the lips and usually heal by themselves within 10 to 14 days. A dentist and/or physician may prescribe a topical medication for treatment.